Wallabies defeat Georgia 35-15 to open Rugby World Cup campaign on positive note

The Wallabies have recorded their first win under coach Eddie Jones this year with a solid 35-15 defeat of Georgia in their Rugby World Cup opener at Stade de France in Paris.
Playing in sweltering heat in the French capital, the Wallabies secured a bonus point courtesy of scoring four tries.
But the victory came at a cost, with halfback and vice-captain Tate McDermott leaving the field following a head knock.
Five quick hits — Donaldson's double and Tupou's flourish help Wallabies to victory
McDermott copped a knee to the head during the first half and is expected to be ruled out of the Wallabies' next Pool C match against Fiji on September 18.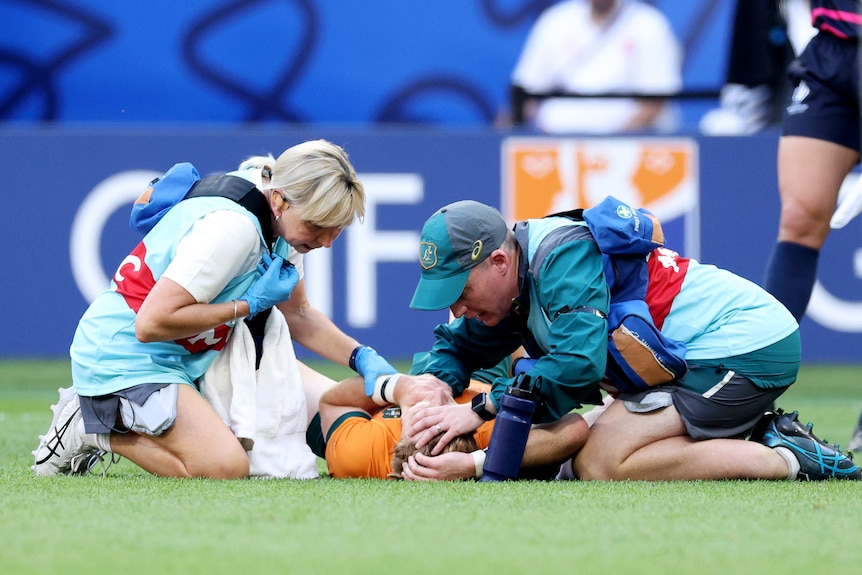 The loss of McDermott was the only sour note for the Wallabies, with fullback Ben Donaldson impressing with a 25-point haul – including two tries – to be named player of the match.
The Wallabies could not have asked for a better start, with outside centre Jordan Petaia touching down in the second minute of play.
Petaia had a hand in the Wallabies' second try seven minutes later, when a neat offload in the tackle allowed Mark Nawaqanitawase to score in the right-hand corner.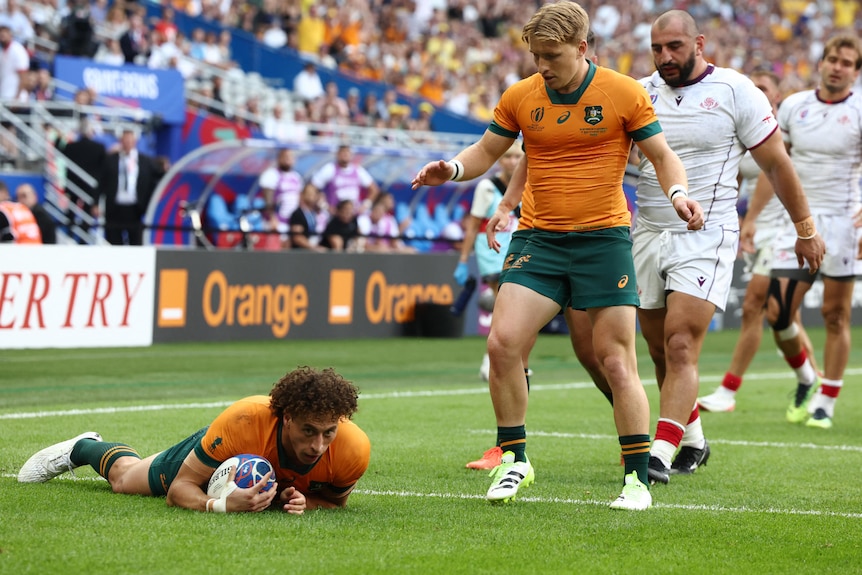 Between the Wallabies tries, Georgia — nicknamed the Lelos — got on the scoreboard via a Luka Matkava penalty goal for its only points of the first half.
Donaldson, who was brought into the Wallabies starting XV primarily for his goal kicking, played his part with a conversion and three penalty goals to help establish a 21-3 lead at half-time.
The Lelos had entered the second half reduced to 14 players after Mirian Modebadze received a yellow card just before the break, but they ate away at the Wallabies' lead through a Luka Ivanishvili try in the 47th minute.
Momentum seemed to be shifting towards Georgia, however the Wallabies responded nine minutes later with a try against the run of play.
A wayward pass from fullback Davit Niniashvili, when the Lelos was on the attack, found the hands of a chasing Taniela Tupou, who then executed a one-handed offload to Donaldson for the Wallabies number 15 to run away and score under the posts.
Donaldson's conversion stretched the Wallabies' lead out to 20 points and he added his second try in the 69th minute in just his second Test start, and first at fullback.
To its credit, Georgia played through to the final whistle, grabbing a converted try to Beka Gigashvili in the 80th minute.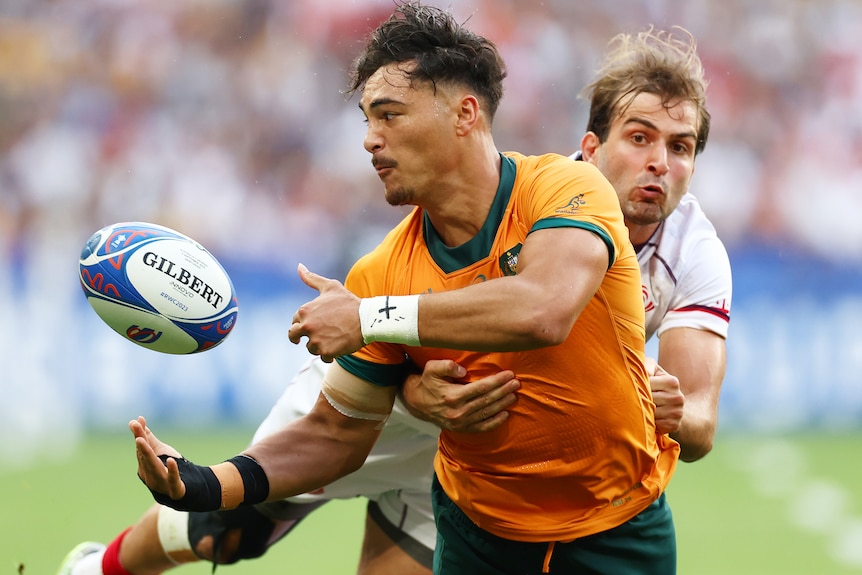 The Wallabies have eight days to recover until they face Fiji in Saint-Étienne.
Georgia plays Portugal in Toulouse on September 23.
Look back at how the action unfolded in our blog.
Key events
Wallabies off to a winning start
Let's be honest, anything less than a win would have been a disaster for the Wallabies.
But given the poor run of form Australia is in and how dangerous Georgia could prove to be, to get a bonus point win was so important.
"It's a big relief," Angus Bell just told Stan Sport, possibly reflecting what a lot of people will feel when they turn on their phones and see the result.
But relief or not, it is a win and one that could help Australia really build into this tournament.
It was a fast start, strong set piece and, for large periods, very disciplined.
A good hit out and plenty to build on ahead of a far sterner test against Fiji a week on Monday.
We'll be back for that one at the same unGodly hour, and I hope you'll be able to join us too.
Happy Sunday Wallabies fans.
'It's just the start': Wallabies skipper Will Skelton
Will Skelton has done his post-match on-pitch press conference.
"Eddie asked us at the start of the week to have a fast start," he says.
"We prepared really well for this game and [we're] happy with the result."
Skelton is very happy with Ben Donaldson's performance as well.
"He was awesome. He showed a lot of character," he says.
"[I'm] Proud of these young boys, but it's just the start.
"Hopefully this is just the start for us and it'll give us momentum."
Ben Donaldson named player of the match
The fullback, named as something of a surprise at the end of last week, has fully justified his selection with a brilliant display of kicking.
"We had a gameplan coming into the game," Donaldson tells World Rugby.
"The boys executed, they made me look pretty good."
Full time: Wallabies 35-15 Georgia
It's the first time the Wallabies have won a match in 2023. Amazing stuff.
In truth, that was pretty comfortable for the Aussies.
A strong performance from the outset and that killed off Georgia pretty quickly.
They had their moments late in the contest but otherwise it was mostly Australia who were in firm control.
80′ Georgia score a consolation!
Beka Gigashvili!
Georgia have a good platform off the back of a lineout.
They first try to crash their skipper Merab Sharikadze over, but when he is held short, the massive sub prop Gigashvili crashed over.
It's 35-15 now.
77′ Georgia break again!
And again it comes to nothing!
A great midfield break from Akaki Tabutsadze, and once he hit open space he flew through the gap and made it towards the 22.
But as he was tackled he flicked the ball out his hand and the chance went begging.
73′ Brilliant tackle denies Georgia
Akaki Tabutsadze bombs a try in the corner, with some assistance from a brilliant covering tackle by Mark Nawaqanitawase.
Nawaqanitawase came across, hit the ball with his hand and Tabutsadze dropped it cold.
It's been a brilliant game from Nawaqanitawase.
72′ Scrum Georgia, Nic White a bit sore
The Wallabies have a penalty , that's the 13th The Lelos have conceded in the game.
Meanwhile, Nic White is holding his shoulder area but will be OK to continue.
69′ Wallabies score another to seal the bonus point!
Ben Donaldson gets another!
It was off the back of some really good pressure that the Georgia simply could not handle.
There was a penalty coming, so Carter Gordon looked up, spun a pass nicely into the centre field to Donaldson, who ran a perfect line to score under the posts.
He converts his own score.
The score is 35-8.
65′ Georgia can't get a chip kick to pay off!
Oh it was a nice idea, just a little dink over the top but Suli Vunivalu was on hand to swoop in and claim the ball, and a penalty against Georgia.
63′ Wallabies cross-field kick
Will Skelton and Taniela Tupou both have decent carries in a 12-phase passage of play as the Wallabies edge towards their attacking right.
Carter Gordon switches play to the left side with a pin-point kick to Suli Vunivalu, but he can't gather.
Marika Koroibete is getting some strapping done to his head but he should be OK to continue.
62′ Water break
The eskies are dragged out and the teams will have a break.
Rob Leota is coming on for Richie Arnold as the players take on some fluids.
59′ Couple of changes for the Wallabies
Suli Vunivalu and Matt Faessler are both on.
Jordan Petaia and Dave Porecki make way.
56′ Try Wallabies!
Ben Donaldson scored the try, but it was Taniela Tupou who made it with a one-handed offload!
Georgia had a fantastic break from Davit Niniashvili.
He was tackled by Nic White, but tried an outrageous flick pass that flew straight to Tupou.
He raced forward towards the line, offloaded and Donaldson did the rest.
Good finish and so is the kick.
The Wallabies lead 28-8.
52′ Brilliant from Skelton
That's a superb captain's intervention from Will Skelton.
The Georgian's committed bodies to the maul and burst through the Wallabies initially, but then it went down and Skelton grabbed onto the ball and won the free kick.
It's a scrum ten metres out, Wallabies put in.
51′ Penalty Georgia
More poor discipline here from the Wallabies. It's Blake Schoupp who comes in on the angle and then carries on the ruck past the ball and the referee isn't happy.
Discipline was not an issue for the Wallabies in the first half, but the same old issues are creeping in.
The Lelos go for touch and have a line out 10 metres out.
49′ Georgia back to 15
Mirian Modebadze is back on the field for Georgia, who will be happy with their efforts while missing a player.
Angus Bell is off for the Wallabies, Blake Schoupp comes on in his stead.
47′ Georgia score!
Luka Matkava with a gorgeous pass over the top to Luka Ivanishvili on the left!
He smashes over in the corner and the Georgians are rewarded for their bold line out kick for the penalty.
46′ Penalty Georgia
Carter Gordon kicks the ball out in goal, offering Georgia a rare period of possession for Georgia off the back of a scrum penalty sees The Lelos have a couple of phases in the Wallabies 22.
The Wallabies don't roll away and they will have a penalty and they go for touch.
They need tries to be honest so that's a good move.
42′ Georgia spectacularly save a 50:22
There was a 50:22 in the first half – and fullback Davit Niniashvili had to dive full stretch to stop the Wallabies from getting another one at the start of the second half that would have given the Wallabies a line out on the five metre line.
Loading
read more Video
website : Joomla.edu.vn
More News Local AU News