Daniel Mookhey, NSW Labor's stamp duty, payroll tax plan to turbocharge state economy

The budget has delivered a blow to thousands of flood victims in northern NSW, after a program to buy back flood-prone houses and make others safer only received a fraction of the money needed to complete the scheme.
The Resilient Homes and Land program was set up with $800 million of state and federal funding last October but in June, the agency delivering it said the money would only cover about a quarter of flood-affected properties.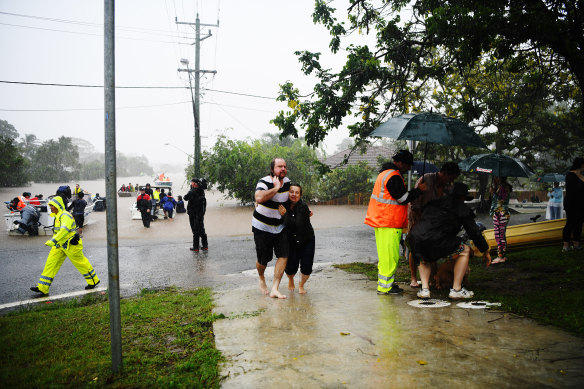 It was revealed the scheme had originally been costed at $1.5 billion, but the Perrottet government had deferred half the funding.
Premier Chris Minns had been under pressure to deliver the remaining $700 million so the program could help more people but his government has only allocated $150 million in the budget "to address natural disasters" in the Northern Rivers and Central West, which also suffered flooding in 2022.
Labor member for Lismore Janelle Saffin said that money would go into a new Community Restoration Flood Fund and would be partly directed towards the Resilient Homes program. She said more funding would be delivered once the NSW Reconstruction Authority had determined a list of priorities.
"I've been given a commitment there will be more," Saffin said.
But Greens member for neighbouring Ballina Tamara Smith said she was "deeply disappointed and devastated" that the government had not funded the remainder of the Resilient Homes program in the budget this morning, given some of her constituents were still sleeping in their cars because their homes were uninhabitable.
"Thousands of flood-ravaged people, who were promised support for the government, have been left with no certainty of when any help is on its way. This is a completely unacceptable outcome 18 months on from the floods.
"Budgets are about choices, and Labor's budget has chosen to leave thousands of people waiting for desperately needed support."
The Northern Rivers Reconstruction Corporation, which is delivering the buyback scheme, said in February that about 2000 homes would qualify for a buyback, with another 4000 qualifying for raising or retrofitting, but that number was revised down in June to 1100 buybacks and 340 retrofits and raises.
Mapping released by the NRRC in June flagged that thousands more houses would be suitable for assistance if more funding was made available.
The government's new flood fund will also help communities prepare for disasters, rebuild and improve assets including bridges and roads, and assist with housing, the government said in a statement.
It has also budgeted $3.3 million over three years for natural disaster detection systems, and $5 million for a community-led "Two Rooms" project, carried out by Resilient Lismore, which is partly repairing the homes of flood victims to make them liveable.
Tweed Shire Council also received $2 million over two years to fund urban flood resilience and mitigation projects.
read more
website : Joomla.edu.vn
More News Local AU News